---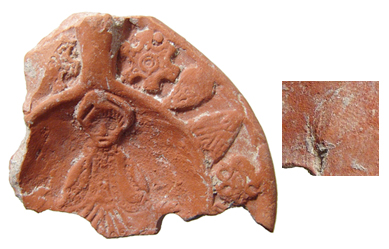 Roman red-ware sherd depicting the prophet Daniel. Roman North Africa, c. 5th Century AD. From Daniel Chapter 6. Augustine used the victorious stories such as Daniel's and the three Hebrews as timeless models for the glorious triumph and freedom from death that comes from living for God. He also used the story of Daniel to relieve those under constraint, as in a letter to the presbyter Victorianus on the occasion of the barbarian invasions in Italy and Spain. Augustine used both stories to comfort Christians who were being led into captivity after these invasions. Ref: Solomonson 1979 pl. 1; p. 9. Ennabli 1976. Pl. V no. 115. Measures 62x55 mm (2 1/2" x 2 1/8"). Fantastic finger-prints of the maker still visible on back! #AR2251: $350 SOLD
---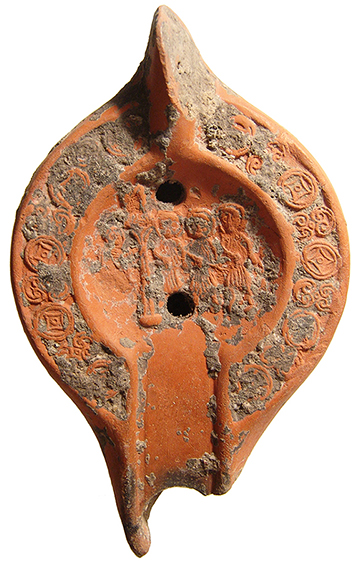 Fantastic oil lamp with Biblical relevance!
North Africa, 5th century AD. Redware oil lamp depicting a scene from Daniel 3, 13-18. The Babylonian king Nebuchadnezzar is seated on the left, commanding the Three Hebrews to worship his image. He points to a bust upon a column before him. The Hebrews are shown wearing short pleated tunics with hoods over their heads. Large 14 cm (5 1/2 inches), with great red color and earthen and mineral deposits. cf.
Light from the Age of Augustine
p. 40 no. 28. A VERY rare depiction of the infamous Babylonian king Nebuchadnezzar! ex-Harlan J. Berk. #AR2764: $475 SOLD
---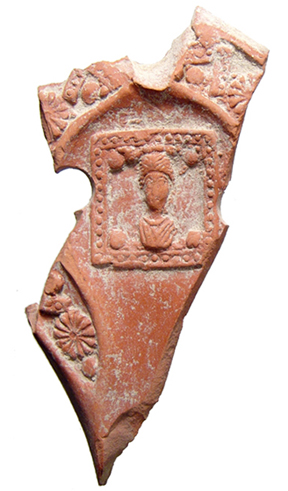 Roman red-ware oil lamp fragment featuring Mary. Roman North Africa c. 5th Century AD. From John 11 - Lazarus' Sister. This piece commemorates the resurrection of Lazarus as witnessed by similar pieces that also bear Lazarus wrapped in his tomb. The hairstyle of Mary/Martha recollect the female fashion of the late third to early fifth century in which a broad braid is folded up over the top of the head. Ref: Ennabli 1976. Pl. IV no. 104 variety; similar to Herrmann and Van Den Hoek no. 36 p. 48. Measures 103x43 mm (4" x 1 5/8"). #AR2253: $350 SOLD
---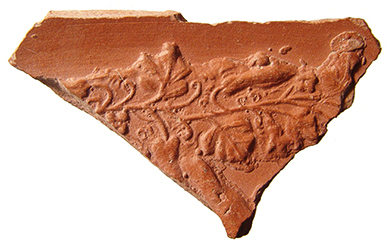 Roman North Africa, c. 4th-5th century AD. Roman red-ware plate fragment depicting a scene from the Jonah Cycle, originally depicting The Prophet Jonah under the Gourd Tree. From the book of Jonah Chapter 4 - The prophet Jonah reclines under the bottle-shaped gourds as illustrated in the fourth chapter of Jonah.
(See example below!) W: 7 cm (2 3/4"). #AR2665: $125 SOLD
---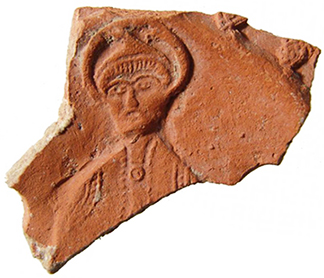 Roman red-ware lamp fragment depicting the prophet Daniel!
Roman North Africa, 350 - 420 AD. From Daniel Chapter 6. With nice style and detail. 1 3/4" x 1 5/16" (4.6 x 3.4 cm). Cf. Daniel Chapter 6 - Augustine used the victorious stories such as Daniel's and the three Hebrews as timeless models for the glorious triumph and freedom from death that comes from living for God. He also used the story of Daniel to relieve those under constraint, as in a letter to the presbyter Victorianus on the occasion of the barbarian invasions in Italy and Spain. Augustine used both stories to comfort Christians who were being led into captivity after these invasions. Reference: Solomonson 1979 pl. 1; p. 9, Ennabli 1976. Pl. V no. 115; Ex Northern California private collection. #AR2674: $175 SOLD