---
Crusader Europe, 11th-13th Century AD. Lead seal/bulla. Stamped with a Crusader's cross on the front, 2 small x-shaped punch marks on the back, which is somewhat conical-shaped. 19 mm dia. Very interesting piece! #7815: $225 SOLD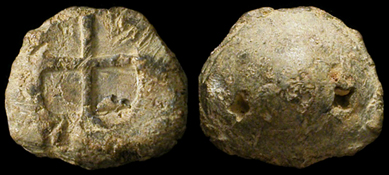 ---
Crusader Jerusalem, 11th-14th century AD, during the height of the Knights Templar. Small bronze weight, Cup-shaped, stamped with a fleur-de-lis on the inside! 13 mm (1/2 inch) diemeter. Found in Jerusalem. Neat! #8218: $110 SOLD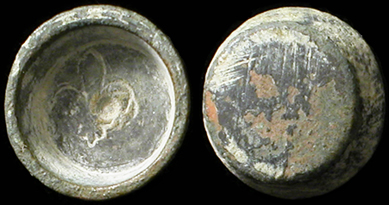 ---
Medieval Europe, 9th-12th century AD. Amazing lead "Pilgrim's flask" or
ampulla
. Nice depiction of a crown on one site, cross on the other. This would have been carried to the Holy Land to be filled with holy water from Jerusalem! Measures 37 mm tall. #9902: $175 SOLD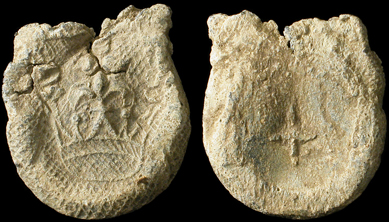 ---
Crusades hand grenade!
Time of the Crusades, Holy Land, c. 6th - 9th Century AD. Choice very large Islamic-period grey ware hand grenade! The body with stylized bands with what resembles seeds from a pomegranate, parallel grooves between each. Domed top with opening for flammable liquid and wick. H: 5 1/8" (13 cm). Intact , minor age crack. A beautiful example! Ex Orange County private collection. #A15176x2: $799 SOLD
---
Crusades hand grenade!
Near East, Islamic Period, c. 7th-9th Century AD. A terracotta 'grenade' in the form of a stylized fish. The body of the weapon has a fin-like backside and a small tail, raised and incised bands with rippling decorate the back. The lip is very thick with a narrow neck to tie a stopper. Intact, light yellowish earthen slip with some Arabic markings on one side. 3 7/8" (10 cm) long. Ex Henk Huffener 19th Century collection, UK. #0411149: $599 SOLD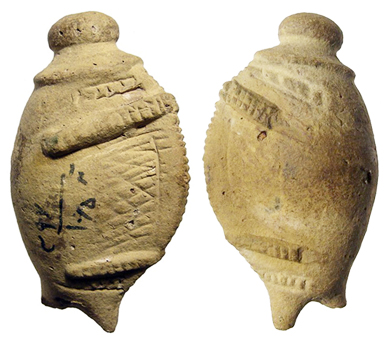 ---
Crusader/Medieval Europe, c. 12th-13th century AD. Beautiful silver Crusader cross, set into a modern sterling silver bezel. H: 39 mm (1 1/2") with hoop, weighs 4.21 grams. Bezel by Erez, high-end jeweler, Berkeley, CA. Gorgeous! #JM2068: $450 SOLD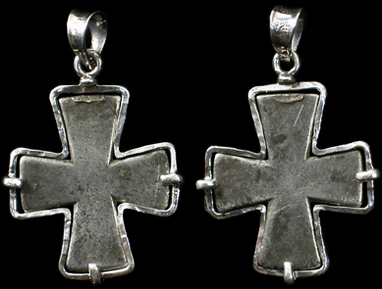 ---
Seljuk Turks, c. 12th - 13th Century AD. THe Great Seljuk Empire was the target of the First Crusade. Bronze ornament in the form of a stylized goat, with large almond eyes. Some loss to back legs, but an attractive and scarce piece. L: 2 1/2" (6.3 cm). Mounted on base. Much nicer in-hand than photo allows. Royal Athena Galleries, New York. #272109x2: $225 SOLD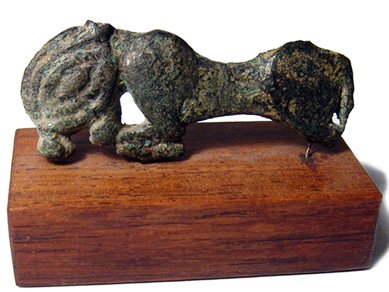 ---
Medieval/Crusader Europe, c. 12th-14th century AD. Awesome lead badge. Large Crusader-type cross in center, Latin inscription surrounding. 26 mm (1 inch) diameter, holed through at top for suspension. Nice dark grey patina with light earthen deposits. ex-UK private collection. #AM2046: $250 SOLD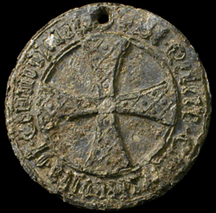 ---
Crusader Israel, c. 13th century AD. A nice and very rare Mamluk/Crusader Period ceramic oil lamp. cf. IAA Reports 26: Avissar and Stern, "Pottery of the Crusader, Ayyubid, and Mamluk Periods in Israel", p. 171, pl. 4. (Type III.3.1.1). 65x61 mm (2 1/2" x 2 3/8". Well-preserved with traces of original white slip, spout still charred from ancient use! ex-Robert Deutsch; ex-Archaeological Center, Tel Aviv. #AM2062: $225 SOLD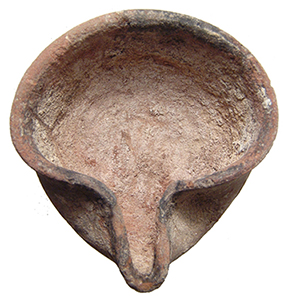 ---
Medieval / Crusaders Europe. 8th - 11th century AD. Small lead "Pilgrim's" cross amulet. The type carried during the Crusades and Medieval period by pilgrims traveling from Europe to the Holy Land and back. H: 25 mm (1 inch). May have been pierced for suspension (Photographed upside-down). #JM2230: $99 SOLD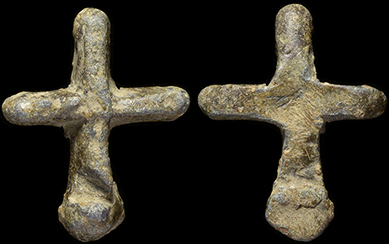 Medieval/Crusader Europe, c. 12th-14th century AD. Incredible and very rare Crusader cross pendant! A reliquary cross - a two-pieced cross that once held within it a relic of a saint or martyr. With original suspension loop and wire wrap at top. Bottom loop missing, still opens! (click for expanded photo). Center of both sides once held a silver or stone inlay. H: 5 cm (2 inches) including loop. Olive-green patina. Excellent! #JM2262: $750 SOLD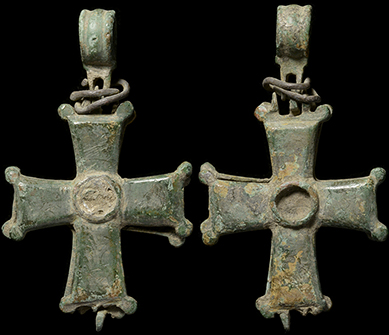 ---
Medieval/Crusader Europe, c. 12th-14th century AD. Rare bronze seal-box! With inlaid silver Crusader cross. A central Latin cross surrounded by 4 pellets. The back with 4 holes to release pressure when the box, filled with wax, would have been impressed upon a (very) important document. Olive-green to coppery patina, the silver toned to near black. 21x17x9 mm (13/16" x 11/16" x 5/16"). ex-Los Angeles, CA collection. #AM2104: $399 SOLD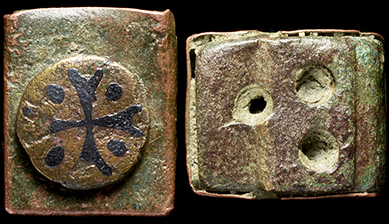 ---
Medieval/Crusades Europe, c. 10th-14th century AD. Large and impressive bronze cross set in custom .925 silver bezel. Measures 158mm (2 1/4") tall without the hoop. Cross with great, smooth dark olive-green patina. Originally with incised details worn mostly away with ancient use. #JM2212: $450 SOLD