Ancient Central Asian Weapons
2500 - 2200 BC

Amazing and HUGE copper spearhead. Hooked ribs protruding from beneath the blade, which would have been heavily sharpened 3,500 years ago. The tip is slightly blunted, and bent upward, from some extreme force, likely in battle. A gruesome and massive weapon... it measures 335 mm (over 13 1/4 inches) long. Would have been polished and shined in antiquity, to reflect the sun's brilliant rays as the soldiers marched into battle. An exquisite and extraordinary piece. Ex-Joel Malter collection.
#ros734: $1850 SOLD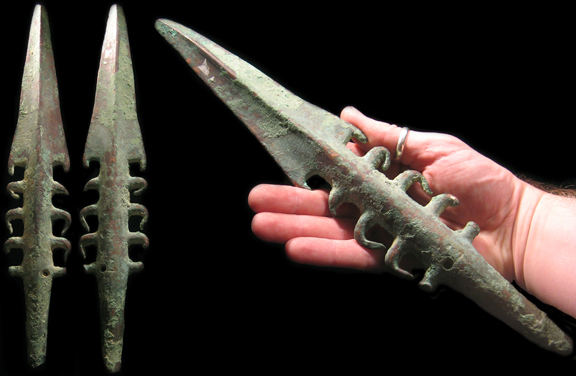 ---
Every item comes with a
100% Lifetime Guarantee of Authenticity.
To make a purchase, or for more information, CLICK HERE
All contents (C) 2003-2023 AD. All rights reserved.
Owned, Operated, and Obsessed Upon by Gabriel Vandervort.
Reproduction without permission is prohibited.
Related search topics: ancient central Asia weapons, ancient bronze spearheads, Iran spear points, Afghanistan Pakistan copper weapons, ancient artifacts Los Angeles